SHIMLA : Saint Thomas' School, Shimla organized a simulation exercise on Model United Nations ( MUN) for their high class students today. About 100 students from senior classes participated in this activity in which the Model of United Nations Security Council was created. The participants representing various member countries debated on the burning issue of Russia- Ukraine conflict.  Discussions were held on the harmful impact of the ongoing war since February 2022 not only on the world economy but also on the global environment. The role of UNSC has also come under question since except recommending sanctions against Russia and supply of arms and ammunition to Ukraine, no fruitful solutions have been found to end the seven months old war in which thousands of soldiers and local residents on both sides have lost their lives. Another concern on dependence of European countries on Russia for supply of gas as energy was discussed threadbare.  The European countries have come to find alternative sources of fuel for their energy generation plants, the participants pointed out.
Another group enacted a Joint Session of both the houses of Parliament for discussions on Farm Bills 2020 which had been enacted to ensure doubling the income of farmers. Students guised as famous parliamentarians like Amit Shah, Nirmal Sitaraman, Narender Singh Tomar, Malikarajun Kharge put forward their views on the implications of the Farm Bills.
Ms Vidhu Priya, Principal,  in her address said that the exercise is aimed at developing leadership skills among the participants. The objective is to provide them an opportunity to a platform of developing public speaking, debating and problem solving skills. Vidhu Priya told that through this simulation exercise the students will also be prepared to participate in inter school such competitions.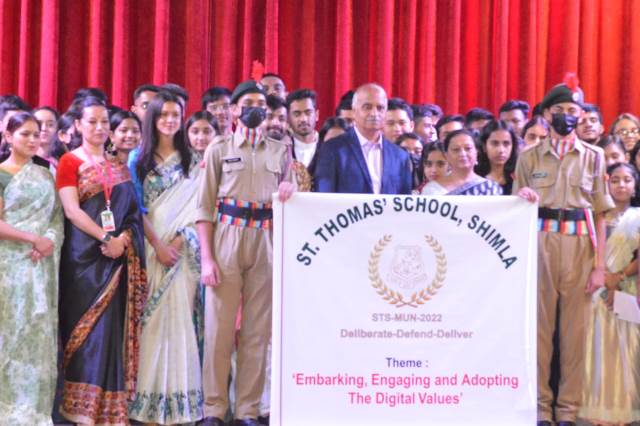 Vijay Kumar Verma, Advisor and Group Editor of ICN World was invited as Chief Guest of the program. In his address Vijay Verma gave an overview on the history of UNO and the UNSC.
He told that every year some 50 such conferences are organized in India with more than 20000 students participating.The most prestigious of these, he told is Dhirubhai Ambani International Indian MUN which is affiliated to The Hague International Model UN. He told that excelling Students of these conferences are also given weightage  for admissions  by some renowned universities.
He also delved on the role of India in dissolving the Russia Ukraine conflict by the means of Non Violence, for which India is long known for.
He also asked the students to imbibe among themselves the Gandhian concepts of non violence.
One of the group of students acted as representatives of the media covering the two events. The school is also operating regular classes on Journalism and Media as a vocational program.