By: Prof. Jaswant Singh, Member-Indian Scientific Expedition to Antarctica & Arctic, Director-Institute of Earth Sciences & Editor-ICN 
ICN is paying tribute to former president and visionary scientist Dr APJ Abdul Kalam. Who was born on October 15 1931, raised in Rameswaram, Tamil Nadu, studied physics and aerospace engineering. Fondly called the "Missile Man" of India, Dr Kalam was an aerospace scientist credited for India's civilian space programme and military missile systems. He served as the President of India from 2002 to 2007, and was widely referred to as the people's President.Dr. Kalam lives in the hearts and minds of every Indian.  
Dr. Kalam was not only a renowned scientist and but a great human being who always motivate youngsters with his humble teachings and inspiring words. Students salute Dr. Kalam's humbleness, creativity, passion and perseverance for perfection and inspire their heart, mind and soul to fight for their dreams.
Dr Kalam will be always remembered for his passion and love for science, technology and innovation. His contributions have not only enabled scientists, educationists and writers across the globe, but have instilled courage in each and every Indian citizen to dream and achieve extraordinary things in life despite adverse conditions.
"You have to dream before your dreams come true"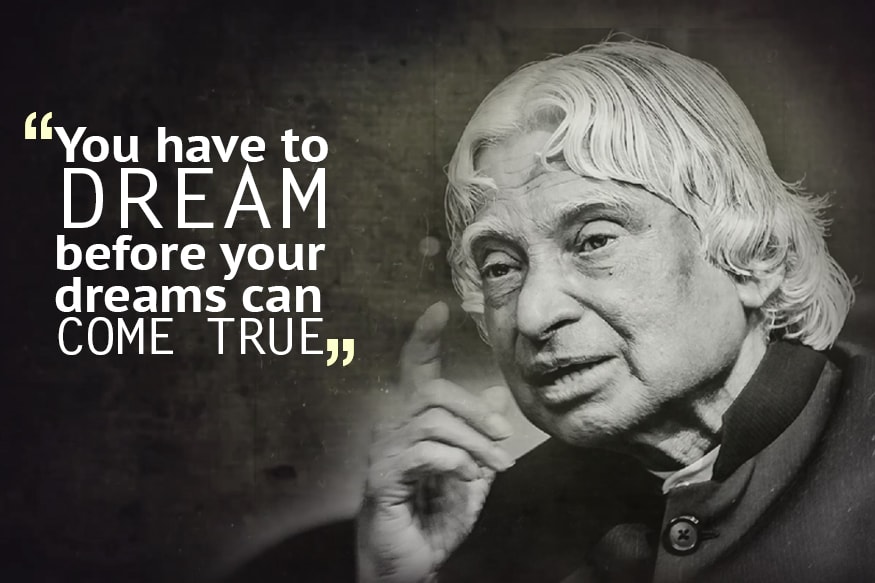 "Look at the sky we are not alone. The whole universe is friendly to us and conspires only to give the best to those who dream and work"
"Man needs his difficulties because they are necessary to enjoy success"
Dr. Kalam, however, identified himself first as a teacher and then anything else. In his honor, his birthday is celebrated as World Students' Day every year.
Dr. Kalam believed that, if the children of our country are given the opportunity to realize their dreams, India could become the most powerful nation in the world. He spent his entire life in encouraging children to dream, travelling across the country.
On the 27th July 2015, Dr. Kalam breathed his last, at IIM Shillong, still doing the same.
The 'Missile Man', the scientist, the innovator, the visionary, the writer, the teacher may not be among us today but the former President certainly lives on in the minds of the nation. He will continue to ignite minds with the vast legacy he has left behind, touching each and every citizen with his inspiring words.
"Don't take rest after your first victory because if you fail in the second, more lips are waiting to say that your first victory was just luck".
Let's take his vision and ideas forward………….